Waterside
Overview
A remaining number of the 31 new homes completed at Waterside are now available. Our large one bedroom apartments with spacious living accommodation, stylish kitchens and contemporary bathrooms are available. Waterside is the ideal living location, which offers residents a host of amenities on their doorstep, helping them build a sense of place.
Contact : Kevin Flanigan Estates at – E: kevinfflanigan@gmail.com Tel: 01 845 3459
Contact : Hooke and MacDonald at – E: sales@hookemacdonald.ie Tel: 01 631 8402
See: www.watersideliving.ie      Follow us on Facebook at: Waterside, Malahide
The next phase of 55 new homes at the front of the development is also well-underway and they are due for completion in 2019.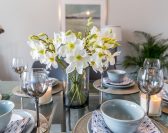 The Agents
Joint Selling Agents
Estate Agent
Kevin Flanagan
Estate Agent
Hooke & MacDonald